Lyft Express Drive Rental Car Program: The simplest way to sign up for Lyft if you don't own a car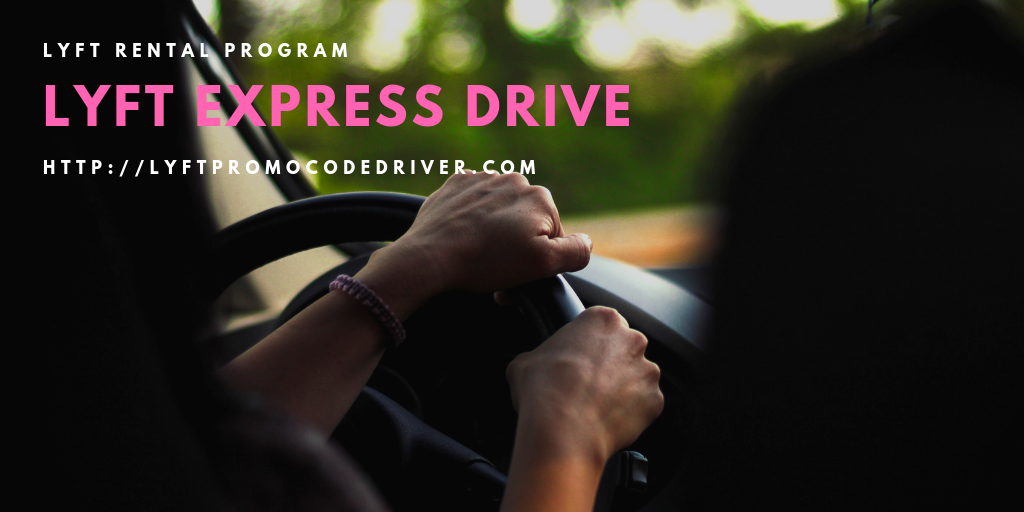 A Complete Guide of Lyft Express Drive.
Are you looking for a flexible job? A way to earn extra income in your spare time? Are you interested in Rideshare driver job but you don't have a car? Do not worry. Lyft partners with Avis Budget Group, Flexdrive, and Hertz so you can rent a car, start driving and earn money.
How does Lyft Express work?
There is no difference between the Lyft driver work you would do with your car or if you rent one thanks to the Lyft Express Drive program. You need to be 25+ years old to rent a vehicle through Hertz or through Flexdrive and you need to pass a background check .
Here is a brief summary of what Lyft is and the advantages of working as a Lyft driver Lyft matches drivers with passengers who request rides through Lyft app. If you don't have a car, you can now rent one with Lyft Express Drive: the car Rental Program for Lyft Drivers.
You need to pay a weekly rate for your rental. This rate varies from city to city. If you give a certain number of Lyft rides, some or all of your rental costs can be covered by Rental Rewards and of course you can drive the car for personal use.
Like all Lyft drivers you can take advantage of the bonuses that Lyft offers to its drivers and the tips that the passengers offer to drivers. We remind you that Lyft is a driver friendly company.
Related Article:
What are the Lyft express drive advantages?
Drive Your Way
Get a car any time and return it when you want.
Low Costs
Insurance and standard maintenance are always included.
Zero Limits
Drive with Lyft and for personal use, with no cap on miles.
How Much Does Lyft Express Drive Cost?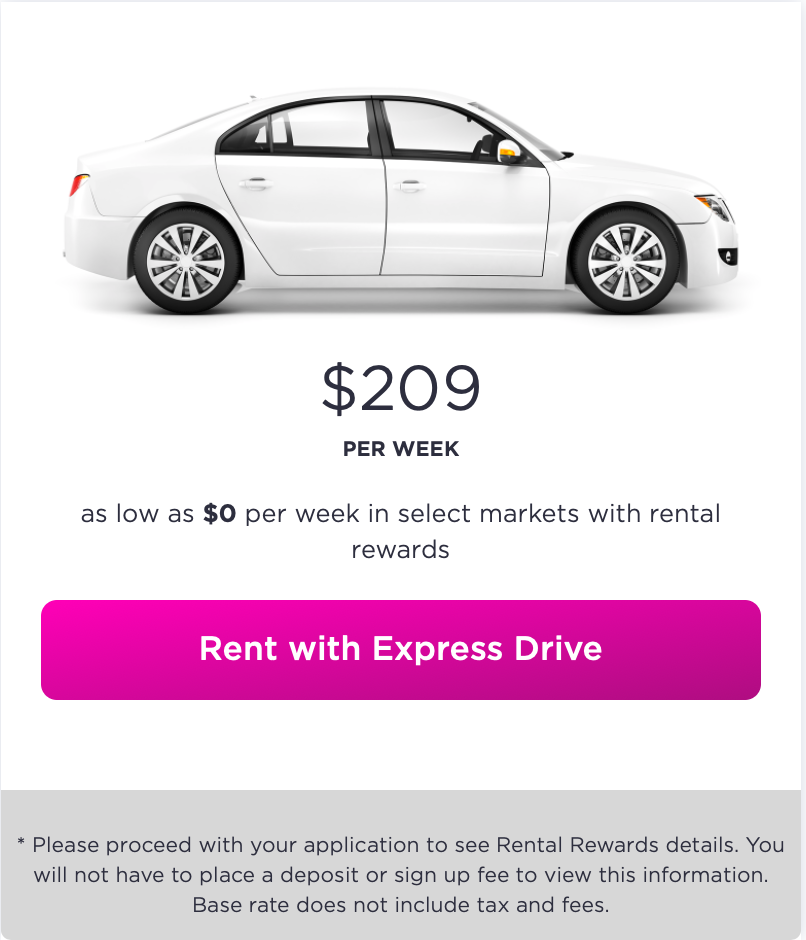 The rental weekly rate may vary by city and rental car provider. In fact it depends on the type of vehicle available in your market.
Vehicle availability is limited, so if you're not able to make a reservation, try another time. If you want to see the available vehicles and their cost you have to start the Lyft application process.
This is an example provided by the Lyft Express Drive website.
In which cities is Express Drive available?
A checklist of all the cities where the Lyft Express Drive Program is Available
In all the cities listed below, not only can you become a Lyft driver even if you do not own a car, but if you sign with our referral code: INVITECODELYFT you will also get the Lyft sign up bonus.
How to apply for Lyft Express and claim your new driver bonus?
Lyft Sign-up Bonus Express Drive step by step tutorial
Sign up to drive with Lyft

Start the Lyft Express Drive application process and chose your vehicle.

Deposit or Sign Up Fee

When you are a new Lyft driver or you are already a Lyft driver but you start the Express Drive program you have to pay a refundable deposit. This deposit is returned:

If you are new driver and you don't pass Lyft Background Check

If you request to end the Express Drive program before picking up a rental car

When you stop using Express Drive and return your car.

Pick Up and Start to Drive and Earn Money

Lyft will send you an email to confirm you all the information for your pick up (time and location)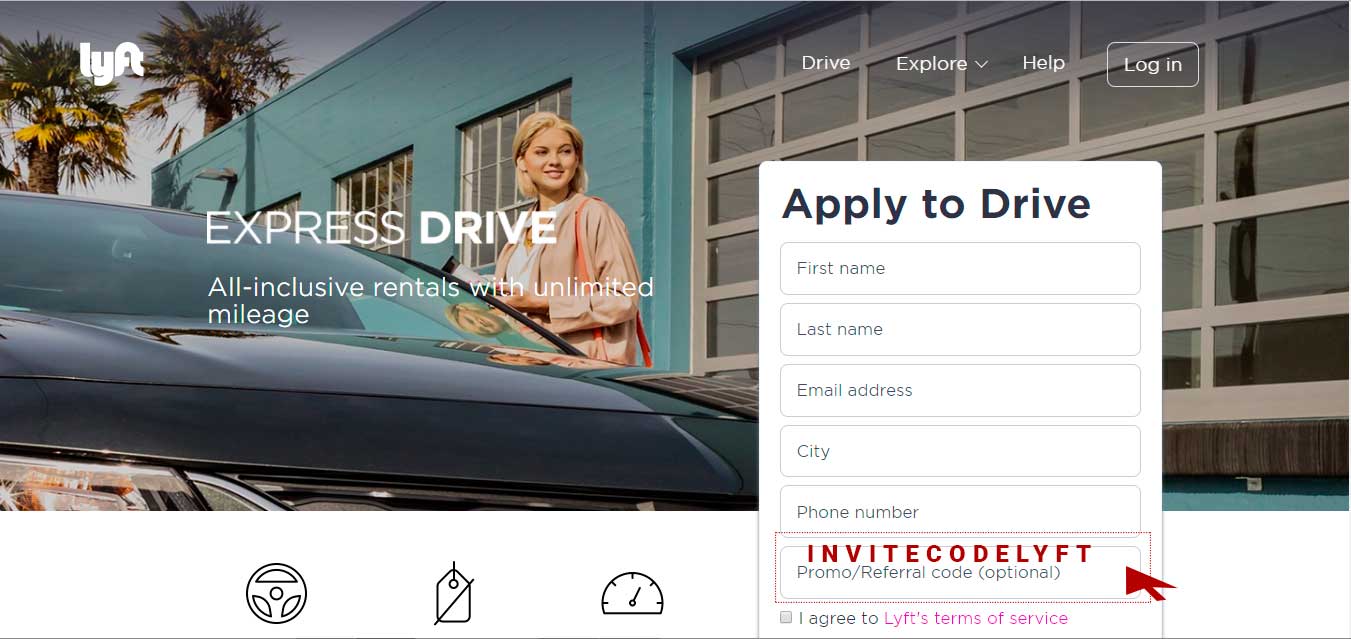 Lyft Express Drive F.A.Q.
Do you have questions on Lyft Express Drive, we have the answers
We have collected the main questions concerning Lyft Express Drive for you and we can offer you the answers.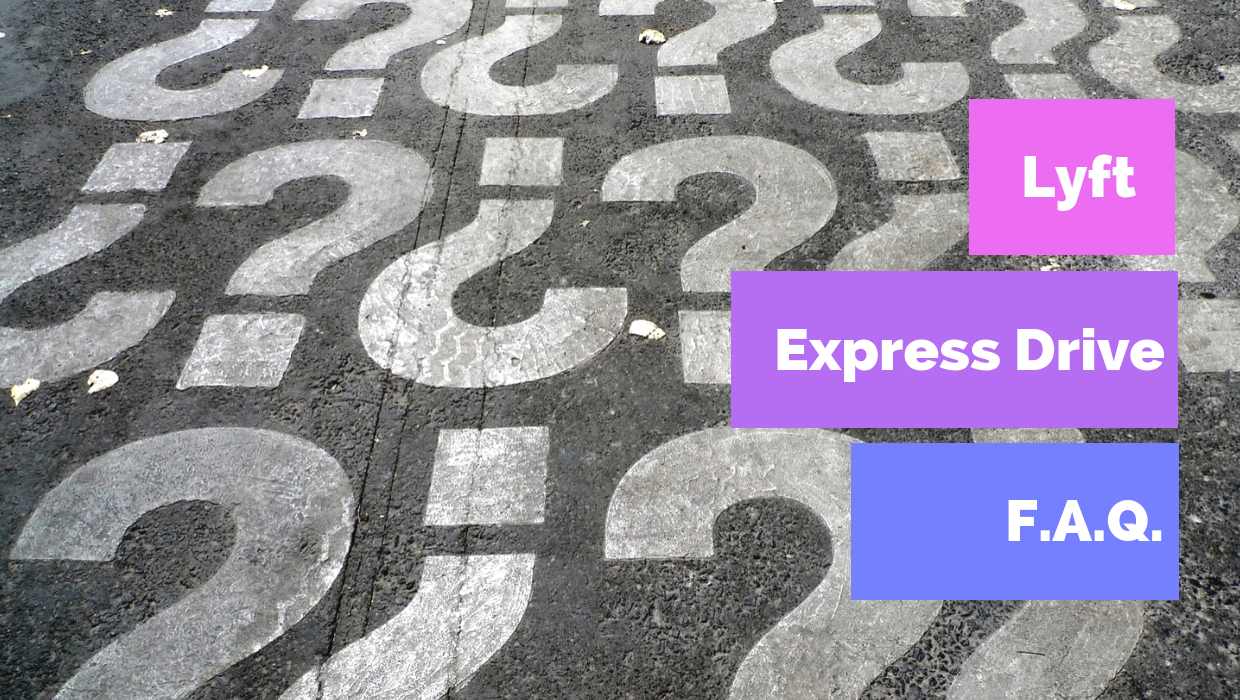 +
Can I sign for Lyft Express Drive if I am already a Lyft driver?
Yes, you can sign up for Lyft Express Drive at any time.
Open your Lyft driver App and go in your Dashbord. Select Vehicle and choose the option rent a car. Follow our example with images it's easy ;)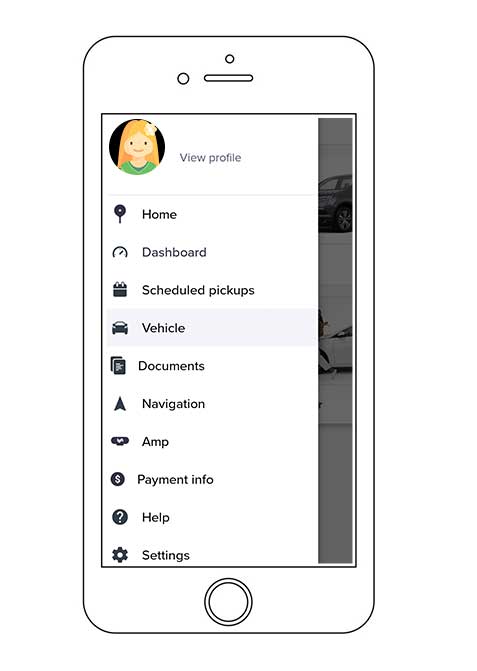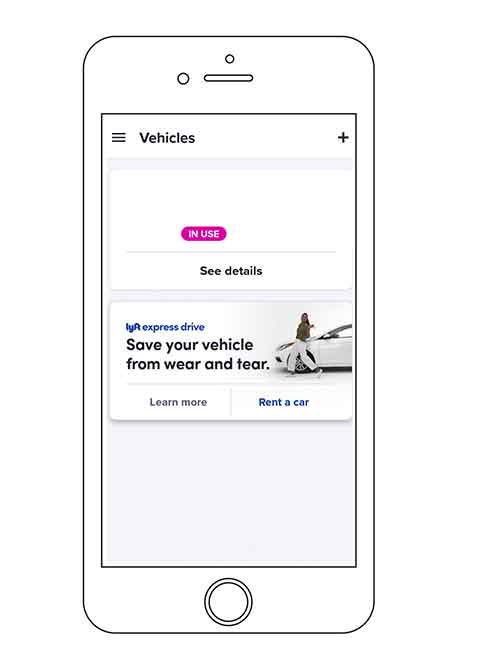 +
Can I use the car for personal use as well?
Yes, this is one of the great advantages of joining the Lyft Express Drive program. Enjoy Lyft Express Drive rental program with unlimited miles.
+
If I stop using Lyft express Drive, after how many days is my deposit returned?
Within 2 weeks of returning the rental car, your deposit will be returned in your weekly Earnings Statement. If necessary, your rental deposit will be used to cover any outstanding payment obligations like damages or failed charges.
+
Is Lyft driver promo code retroactive?
No. To be eligible for the new driver promotion you need to enter the 'Promo/Referral' INVITECODELYFT in the 'Promo/Referral' code space when you start your application. Otherwise, you won't be eligible for the new driver promotion.
+
Are Lyft Express Drive drivers eligible for other driver bonuses?
Drivers enrolled in the Lyft Express Drive program are eligible for:
Earnings Guarantees or sign-on bonuses if they sign up with a code and meet all requirements

Referral bonuses for referring others
+
How long does it take to be approved by Lyft?
+
Where can I check my Lyft Express Drive application status?
+
Can Lyft drivers drive in other cities
Yes, you can drive in other cities but only within your State.
We are an Happy community of Lyft Drivers...
With Lyft you can work in your own schedule and cash out instantly
Uber| UberEats Invite Code and Postmates Referral Code for You
We Provide best resources, information and promo codes for rideshare and delivery drivers. Uber, UberEats and Postmates offer a sign up bonus and there are no vehicle requirements to work as delivery driver for UberEats or Postmates. You can also ride or Scoot.
Sign up bonuses are the best way to increase your earnings and make cash fast. Our Uber/UberEats promo code and Postmates referral code will give you the best bonus at any given time.
NEW!
UberEats New Driver Referral Promo Code
Get up to $500 UberEats new Driver Sign-up Bonus
UberEats Invite Code
NEW!
NEW!
NEW!
Table of contents


(Show More)
Sign up Now
Set up your Lyft Account and start to earn money