4. Postmates Driver Pay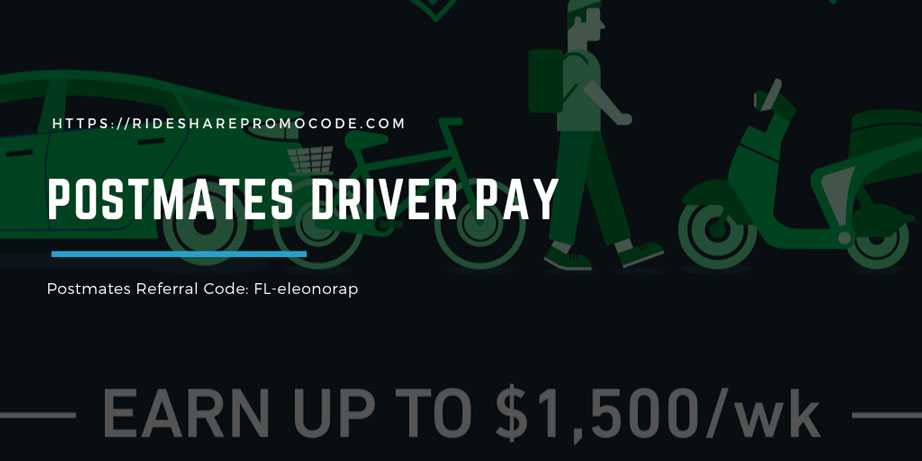 There is great competition between the different delivery services and it becomes difficult to understand for whom to sign up if you don't know exactly how the pay works. First of all, it is important to clarify that neither Postmates, Uber Eats nor Doordash offer a salary to their drivers. Although it is a much discussed topic, but until now the delivery drivers of these great companies, including Caviar and Favor, do not have a minimum hourly wage.
How Much Do Postmates Drivers Make
According to Indeed.com the average hourly salary of a Postmates delivery driver is $24.97 per hour (59% above national average).
Once approved as Postmates driver and before to start making money with Postmates you need to set up your driver account in the Postmates Fleet app. You need to add your bank account information. With Postmates your earnings are deposited into your bank account every week. Postmates will give you the opportunity to cash out your earnings instantly with Instant Pay. There are no limit of the numer of the time you can cash out your earnings. Postmates instan pay is one of the most appreciated feauture of all the Postmates drivers.
Postmates Pay Structure
I wonder you want to know how Postmates driver earnings are calculated? Driver pay calculation begins when the user pass an order and you accepted it in the Fleet App. Postmates driver pay includes time spent waiting, in particular Postmates delivery fare includes:
An amount for each completed pickup
An amount for each completed drop off
A per minute rate for your time spent waiting at a pickup location
A per mile rate for the distance traveled between pickup and drop off location
Postmates offers incentives to the drivers to ensure we have the right balance of delivery-drivers on the road based on the number of customers ordering with Postmates App. Postmates incentives are always on top of your earnings. You will know the amount of the bonus when you accept the delivery request.
If you want to learn more about the Postmates pay rate in your market, you can take a look at the Postmates Website
Postmates Tip
We all read the history of a food delivery app that subtracts the amount the customer tips from the amount it pays the courier.
Postmates customers can tip the drivers with cash or with Postmates Fleet App. Postmates has an in app tipping system. Every time a customer pass an order and before to place another one, the customer need to put a tipping option. While tipping is not usually mandatory, understand how tips work in the Postmates platform is really important for customers and drivers too. For the Fleet drivers, tips make up a substantial part of their income. You need to provide a good service to Postmates users than you will be rewarded for your service through the tip. All the tips you receive are on top of your driving earnings and are added to your available balance, than available to cash out. In any case you will get all the tips with your driving earnings in the weekly deposit.
Postmates Sign up Bonus
Current Postmates new driver sign up bonus promotion offers Guaranteed Earnings:
Sign up for Postmates with our Postmates referral code
Go online Complete the required number of deliveries within the required number of days.**
If you earn less than your guarantee, Postmates will give you the difference